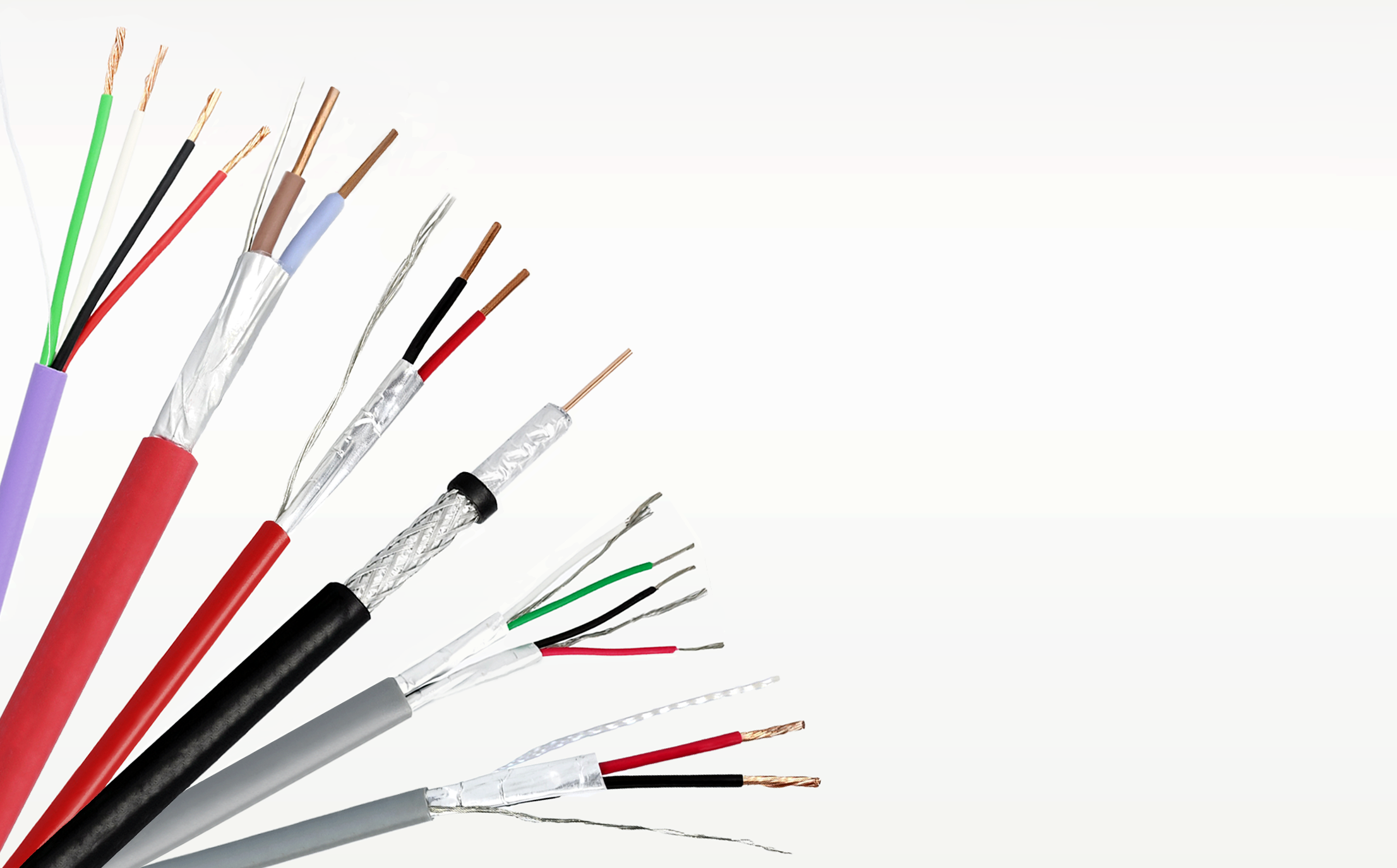 With the burgeoning application of smart technologies in homes and offices increasing at a steady pace, you can now control your home or office from your smartphone. From turning gadgets and appliances on or off, to setting security alarms and controlling cameras and door access, almost everything can now be done remotely. While these smart applications rely heavily on artificial intelligence and several software solutions, the performance and reliability of integrated security and smart systems depend on the quality of the cable solution that is chosen. With building automation, energy savings, and system reliability being heavily dependent on effective networks and connections, your choice of cable has to be intelligent too.
This is where B3 International, the Italian brand armed with years of expertise and an extensive product range, can help you. Whether it's for security, access control, indoor or outdoor monitoring on analog or IP based systems, B3 International has the cables for your system. From automated climate control to telecommunications, the integration of security, lighting, mechanical, and personal protection is making today's buildings and homes more intelligent and networked. B3 International has the right solutions to help get the most out of your building management system.
As a leading manufacturer of copper and optical fibre cables, B3 International provides the foundations for telecommunications and global connectivity. Operating regionally from its office in Dubai airport free zone, B3 International boasts world-class manufacturing operations based in Europe that are moer than capable of meeting the demands of a global supply chain. The company's broad range of products include paired cables, multi conductor cables, fire alarm cables, fire resistant cables, coaxial cables, data cables, instrumentation cables, optical fibre cables and connectivity.
B3 International's smart/automated cables are perfect to help smart home and office solutions stay secure and connected. The brand's portfolio supports a large number of automated systems that is being used commercially, access control, multi conductor cables for card readers, door contacts, lighting control, KNX cables, Dali cables, temperature control, paired cables for HVAC control, thermostat cables, cables for valve control, public address, emergency lighting, and consumption meters.
وضم وفد شركة «جماعة المهندسين الاستشاريين ECG»، العاملة فى تقديم الاستشارات الهندسية وخدمات التصميم الهندسى والمعمارى فى منطقة الشرق الأوسط وإفريقيا وأوروبا، كل من المهندس محمد رسلان، مدير المشاريع، والمهندس عمرو جلاب، المهندس الكهربائى، والمهندس على فرج، مهندس الأنظمة، وكان فى استقبال الوفد المدير الإدارى محمد مغربى، ومدير العمليات ماتياس لاند.
زار وفد من «جماعة المهندسين الاستشاريين – ECG Egypt»، مصنع الكابلات التابع لشركة «B3 International» فى إيطاليا، والتى تعمل فى تصنيع كابلات الألياف النحاسية والبصرية التى تشكل أسس الاتصالات السلكية واللاسلكية والاتصال العالمى، وذلك فى إطار خطط للتعاون خلال الفترة المقبلة.
واطلع الوفد على إجراءات التصنيع، وخطوط الإنتاج بالمصنع، الذى يضم أحدث خطوط الإنتاج الأوروبية التى تواكب وسائل التكنولوجيا العالمية الأكثر حداثةً وفقًا للمواصفات القياسية العالمية لجميع الكابلات التى تنتجها الشركة، وجرت المناقشة فى أبرز إجراءات الرقابة على النوعية، كما قام الوفد بإجراء اختبارات ميدانية على المنتجات.
وشملت الجولة فى المصنع شرحًا لعملية الإنتاج بكافة إجراءاتها وخطوات تنفيذها، وتم التحقق من المواد الخام الأوروبية المصدر المستخدمة فيها وكيفية تطبيق إجراءات مراقبة النوعية والجودة خلال عملية التصنيع.
وقام الوفد بجولة ميدانية على مختبرات المصنع، وأجرى اختبارات مكثفة فى سياق انتشار اللهب العمودى للكابلات، واختبار الحريق، بالإضافة إلى اختبارات الأداء المادية والكهربائية الأخرى، وانتهت الاختبارات جميعها بنجاح.
وتجرى شركة «B3 International» اختبارات منتظمة على الكابلات التى تقوم بتصنيعها بالتعاون مع أهم المختبرات الأمريكية والأوروبية، ومنها شركة UL الأمريكية، وشركتى BRE وWarrington Fire البريطانيتين، وEZU التشيكية، وKNX Association، وغيرها من الشركات العالمية فى مجال علوم السلامة.
B3 International (B3) and Dubai Leading Technologies (DLT) have signed a strategic business partnership establishing DLT as distributor of B3 International in the UAE market. DLT will be promoting and selling B3 Structured Cabling products, approved by UL and Etisalat (UAE).
For more information, please visit DLT website: https://dubaileadingtech.com/
B3 International is proud to announce yet another achievement, our regular PVC sheathed BMS cable range is now recognized and listed by Underwriters Laboratory, more known as UL. This achievement demonstrates the commitment we have to always work with a high level of quality assurance and to position us at the very top of the premium segment in the cable industry.
We are happy to announce that our range of KNX cables are recognized by the KNX association. This is yet another proof of our commitment and to work towards highly set standards. To read more about our cables, please visit our KNX range here..
To download a copy of the KNX recognized cables please download it from here..
https://www.knx.org/wAssets/docs/downloads/Certification/KNX-Certified-Cables/Cable.pdf
We are proud to announce that our new ISO 9001:2015, ISO 14001:2015, BS OHSAS 18001:2007 certificates are now available. We are particularly proud as it demonstrates our commitment to providing the highest quality products and services to our clients and partners and further establishes B3 International as a leader in our field.
The Securex exhibition in Johannesburg, South Africa has now ended and we would like to extend our warmest gratitude to all the people who visited us during the busy days at the Gallaghers Exhibition Center. During the event we met with both new and existing clients and are looking forward to expanding the market here, our products have been well received by the customers and we are pleased to continue the development in this area, says Mr Moghrabi, Business Development manager at B3 International.
We are glad to inform you that B3 International S.R.L will attend one of the biggest security and fire trade exhibition — SECUREX SOUTH AFRICA 2018 during 22ND – 24TH May 2018 at Gallagher Convention Centre, Johannesburg in South Africa.
Our booth is located in Hall # 3, Stand J06, Italian Pavilion. Please log on http://www.securex.co.zafor more details about the fair.
If you would like to get the opportunity to sit down for a meeting with our team at the show please drop us an email in advance to secure a suitable time.
We are looking forward to see both existing and new customers and partners at the show.
The B3 International Team